Teaching money-saving skills to children is an essential aspect of their financial education. By starting early, parents can instill healthy habits and empower their children to make wise financial decisions as they grow older. In this comprehensive guide, we will explore effective strategies for teaching money saving to 3-year-olds. From simple concepts to practical activities, we will provide you with the tools and knowledge to foster financial literacy in your young ones.
Teaching Money Saving to 3-Year-Olds
Teaching Money Saving to 3-Year-Olds: The Basics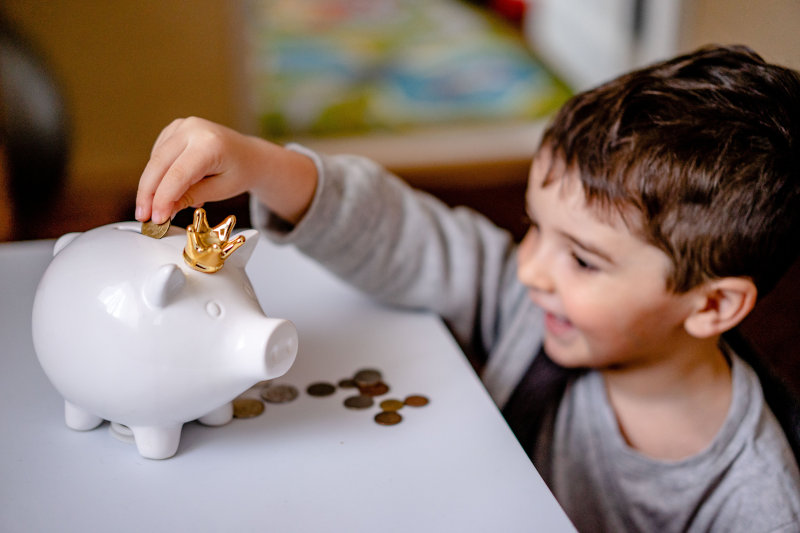 At the age of 3, children are curious and eager to learn. This is the perfect time to introduce them to the concept of money and savings. By using age-appropriate methods and engaging activities, parents can lay a solid foundation for financial responsibility. Here are some fundamental principles to keep in mind:
1. Make Saving Fun!
Children learn best when they are having fun. Turn money-saving activities into enjoyable games. For example, create a piggy bank with your child and encourage them to save their coins. Celebrate their milestones and achievements by rewarding them with small treats or activities they enjoy. By associating saving with positive experiences, children are more likely to embrace the habit.
2. Teach the Value of Money
Help your child understand that money has value and is earned through work. Introduce coins and bills, and explain their worth. Engage in role-playing scenarios where your child can pretend to be a shopkeeper or customer. This will give them a practical understanding of how money is exchanged for goods and services.
3. Set Savings Goals
Teaching children the importance of setting goals is crucial for their financial development. Discuss with your child what they would like to save for—a toy, a special outing, or a favorite treat. Break down the cost into smaller increments, and encourage them to save a little at a time. This will teach them patience and perseverance.
4. Lead by Example
Children learn by observing their parents and caregivers. Be a positive role model when it comes to money management. Involve your child in everyday financial activities, such as budgeting, shopping, or saving for a family vacation. Explain your decisions and demonstrate responsible money habits.
5. Encourage Delayed Gratification
Help your child understand the concept of delayed gratification. Teach them that waiting for something can make it even more enjoyable. For example, if they want a particular toy, encourage them to save money and wait until they have enough to purchase it. This valuable lesson will instill discipline and self-control.
Creative Activities for Teaching Money Saving
Now that we have covered the basics, let's explore some creative activities that make learning about money saving engaging and interactive for 3-year-olds. These activities can be adapted to suit your child's interests and preferences.
Activity 1: "Coin Sorting Fun"
Materials needed: Coins (pennies, nickels, dimes, and quarters), sorting tray or bowls
Instructions:
Start by introducing the different coins to your child and explaining their values.
Show them how to sort the coins by placing them in separate trays or bowls.
Encourage your child to identify each coin and match it to the corresponding value.
Once they are familiar with the coins, create a fun sorting race where they have to sort the coins as quickly as possible.
Repeat the activity regularly to reinforce their knowledge of coins and their values.
Activity 2: "Saving for Something Special"
Materials needed: Clear jar or piggy bank, stickers or markers, colored paper, magazines
Instructions:
Help your child decorate a clear jar or piggy bank using stickers or markers.
Cut out pictures of things they would like to save for from colored paper or magazines.
Explain that every time they save money, they can add it to the jar and get closer to buying the item they desire.
Encourage them to contribute a portion of their weekly allowance or small amounts they receive as gifts.
Celebrate milestones together as they get closer to their savings goal.
Activity 3: "Grocery Shopping Challenge"
Materials needed: Play money, toy shopping cart, toy food items
Instructions:
Set up a pretend grocery store with toy food items and a shopping cart.
Assign a price to each food item using play money.
Give your child a specific budget and encourage them to select items within that limit.
Help them make decisions based on the available funds, emphasizing the importance of budgeting.
After "purchasing" the items, discuss whether they were able to stay within their budget and if they need to save more for next time.
These activities provide hands-on experiences for children to learn and practice money-saving skills in a fun and interactive way. Remember to adapt the activities to suit your child's interests and abilities.
FAQs about Teaching Money Saving to 3-Year-Olds
1. When should I start teaching my child about money saving?
It's never too early to start teaching your child about money saving. As soon as they show an interest in money and are able to understand basic concepts, you can begin introducing them to the idea of saving.
2. How can I make money-saving activities engaging for my child?
Make money-saving activities enjoyable by turning them into games. Use colorful visuals, rewards, and positive reinforcement to create a fun and motivating environment.
3. Is it necessary to give my child an allowance?
Giving your child an allowance can be a helpful way to teach them about money management. It allows them to practice saving, budgeting, and making choices with their own funds.
4. How do I explain the difference between wants and needs?
To explain the difference between wants and needs, emphasize that needs are essential things we require to live, such as food, shelter, and clothing. Wants, on the other hand, are things we desire but can live without.
5. Should I involve my child in family financial discussions?
Involving your child in family financial discussions can be beneficial, as it helps them understand the value of money and the importance of making informed decisions. However, ensure the discussions are age-appropriate and avoid burdening them with adult financial responsibilities.
6. What are some recommended books or resources for teaching money saving to young children?
"The Berenstain Bears' Dollars and Sense" by Stan and Jan Berenstain
"Alexander, Who Used to Be Rich Last Sunday" by Judith Viorst
"A Chair for My Mother" by Vera B. Williams
"Bunny Money" by Rosemary Wells
Conclusion
Teaching money saving to 3-year-olds is an invaluable investment in their financial future. By introducing them to basic concepts, engaging in fun activities, and setting a positive example, parents can equip their children with essential life skills. Remember to make learning enjoyable, celebrate achievements, and encourage open conversations about money. With the right guidance and nurturing, your child will develop a solid foundation in financial literacy that will benefit them throughout their lives.